It's the first of the month, which means we get our first look at May data in the form of the ISM manufacturing index, as well as April construction spending. The questions we are looking for information to answer from these two leading sectors of the economy, manufacturing and residential construction, are: (1) is the Boom still ongoing, and is it likely to continue in the coming few months; and (2) is there evidence that inflation is creating a bottleneck on growth?
The answers for the two sectors appear to be different.
First, the May ISM manufacturing index increased slightly from 60.7 to 61.2. The new orders component of the index, which is the most leading, increased even more, up 2.7 from 64.3 to 67.0, very close to its December and March highs: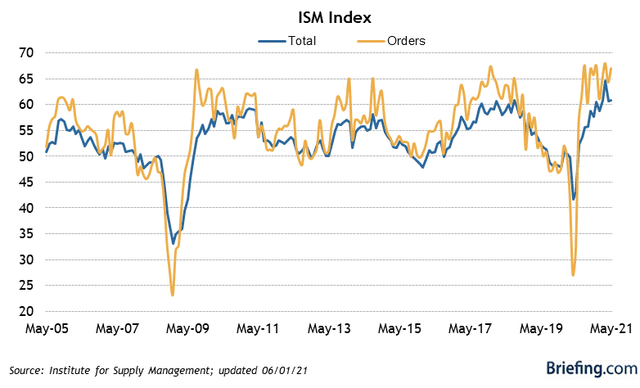 Figure 1
The boom in manufacturing is continuing, with no evidence of a slowdown in the near future.