"Flattening the curve" was not such an appetizing option either, because it meant that *everybody* got infected with the disease during the period of flattening, and so the death toll would still be horrifying, perhaps 1% to 3%. It also meant that the period that the infection would curtail society was extended to several years.
Shortly a much better alternative, based on the success of South Korea, was embraced. Described as "crush the curve," it meant imposing firm lockdowns for a long enough period of time for thoroughgoing testing of the population, tracing contracts of those infected, and isolating the infected to be ramped up and in place.
Here's what the three alternatives look like in a diagram: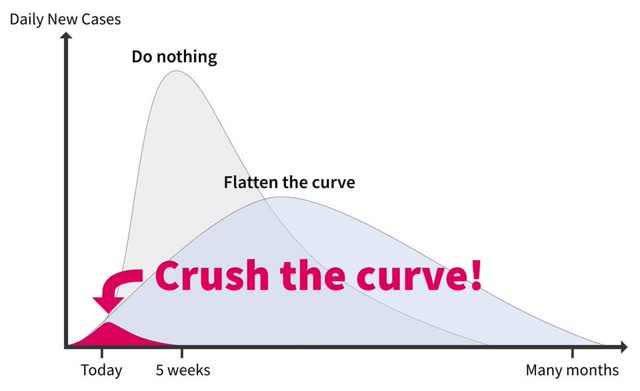 Throughout the latter part of March and into early April, one by one all but a few, mainly rural, States imposed lockdowns, and the rate of new infections quickly plateaued. But, due to the intransigence of Donald Trump personally and key members of his Administration, the ability to test in the number required was never implemented. In particular, Trump resisted for weeks making use of the Defense Procurement Act for obtaining the necessary medical equipment quickly.  He has never given the slightest indication that he views doing widespread testing as either necessary nor (politically) desirable.