Totals US deaths, Cases, vaccinated one dose and two doses:
– Coronavirus confirmed deaths: 500,310
– Confirmed infections: 28,190,159
– One Dose vaccinations: 44,138,118, and
– Two Dose vaccinations: 19,438,495.
The good news is, roughly 9.5% of the US population age 18 or over has received both doses of a vaccine. Over 20% has received at least one dose.
The bad news is that we have reached the milestone of half a million dead. Further, probably at least 40,000,000 people have been infected, since many who have no or mild symptoms don't ever get tested.
Here's the graph of the 7 day average of new infections and deaths for the US over the last 12 weeks: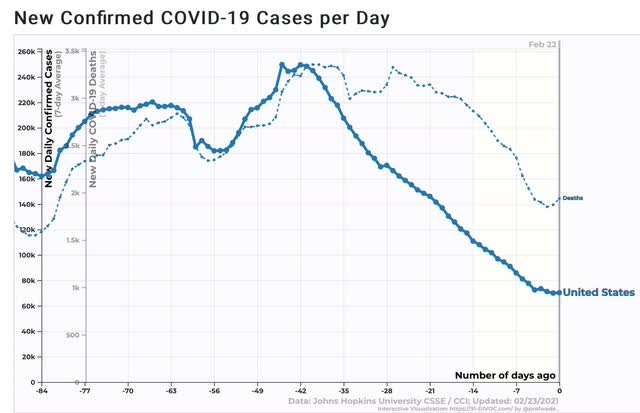 While there has been a decline of over 2/3's in infections, and 40% in deaths, this only puts us even with the very worst levels of the summer outbreak.