Almost a month ago I flagged the decelerating staffing index, and showed how it corresponded with the leading sector of temporary jobs in the monthly jobs report:
the Staffing Index isn't seasonally adjusted, [so] you really have to compare each on a YoY basis. And while the two don't turn positive or negative at the same time or for the same duration, they do correlate well on YoY direction; i.e., acceleration or deceleration in the YoY comparison.
I concluded:
[This deceleration] makes me think that the deceleration of temp jobs in the monthly report for the last three months, as shown in the final graph below:
hasn't just been noise, but – while still positive – is demonstrative of real weakness.
Since then, beginning three weeks ago, the Staffing Index has gone negative. As of this week, it is down over -1% from a year ago, and even negative compared with two years ago: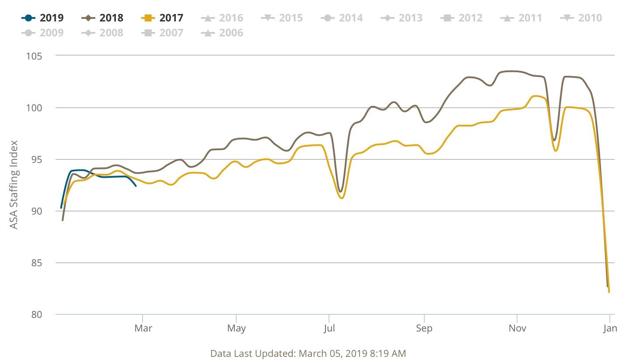 </div)
As a result, I expect at minimum that this Friday's employment report will show that temporary help jobs have also decelerated YoY. Since in  last February 12,000 temp jobs were added, that isn't much of a constraint.
But the average for the last three months has been declined to +3,000 per month. With the Staffing Index having continued to roll over since the beginning of this year, that is a more realistic ceiling on what I am expecting on Friday, and there's probably a 50/50 chance of an outright decline will be reported for February.
The bottom line is that almost all of the other economic data has been validating the "slowdown" forecast I made beginning last summer, and I expect employment to follow — and temporary jobs will probably lead the way.