– by New Deal democrat
Sales and production are two of the four things that economists look for in gauging whether the economy is in expansion or recession, and this morning both of them – retail sales and industrial production – were released for May.
So it's true: as defined by the NBER, the Coronavirus Recession may have only lasted two months, from February through April. That's because, just as February was the peak of economic activity before the coronavirus hit, April may well have been the trough. And recessions technically end, not when the economy becomes objectively "good" or "fair," but simply when the level of activity is less awful than before. If the trajectory is positive, and activity goes from really awful, to slightly less really awful, the recession has ended, even if the economy is still, well, awful.
To the graphs! First, here are retail sales, both nominally and as adjusted for inflation: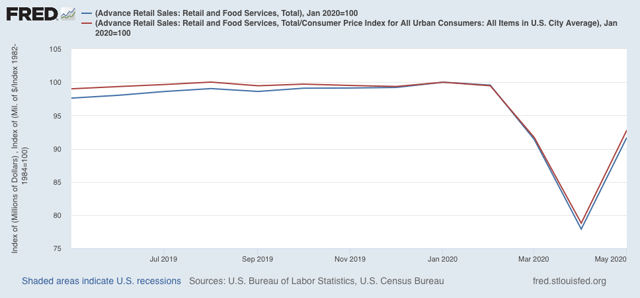 Both increased 17.7% in May, after declining over 14% in April. Both are also slightly higher than their levels in March. Clearly the "reopening" of the economy in large portions of the country led to a splurge in spending.