UPDATE: Forbes reported today that UK housing prices are up " 0.31 pct from the previous quarter". That is a slight decline in real terms. However the "volume of sales decreased by 34.77 pct". That is exactly how a housing bust usually works:
"Housing "bubbles" typically do not "pop", rather prices tend to deflate slowly in real terms, over several years. Historically real estate prices display strong persistence and are sticky downward. Sellers want a price close to recent sales in their neighborhood, and buyers, sensing prices are declining, will wait for even lower prices. This means real estate markets do not clear immediately, and what we usually observe is a drop in transaction volumes."
It is the drop in transaction volumes that causes general economic problems (slower retail sales, lower employment, etc.).
Original Post: "Are we there yet?" Soon.
Next year at this time I expect to be writing about how the falloff in housing is impacting the economy, but I wouldn't be completely surprised if the housing bubble is still expanding. Speculative bubbles go on longer than most people can imagine.
"Predicting the timing of a future economic event is not easy. Predicting what will happen is easier, though."
Warren Buffet, 4/30/2005
Perhaps we can look at the UK for guidance on timing. But first, here is another amazing story in the Washington Post from this morning, "It's on the House: Now Everybody Is Paying for Everything With Home Equity". Also see Dr. Setser's take: "The US economy, in a nutshell?" as Setser ties the housing boom to the current account deficit – an ongoing theme.
What is happening in the UK? The housing boom has apparently ended, and the retailers are already feeling the impact. According to the Telegraph this morning: "It's bad and getting worse":
"The longest and strongest consumer boom in recent history is over. And normally euphoric retailers are suddenly feeling very depressed …

The storm clouds hanging over the UK retail sector are looking greyer by the day. New figures from the British Retail Consortium, the industry body, will tomorrow show that high street sales over April fell by more than 3 per cent compared to the previous year."
That is on top of last week's bleak numbers for retail and manufacturing, "UK Economy Shaken":
"High street sales suffered their steepest monthly drop for 13 years while manufacturing activity succumbed to its first decline in two years."
Friday morning the BBC reported that "Britain braced for credit crunch":
"Not since the mid-1990s, as the last economic recession claimed its final victims, has so much debt pain been felt by so many people."

"…according to official figures nearly 26,000 property repossession orders were granted in the first three months of 2005, the highest number since 1995."
And sure enough, on Friday the Department for Trade and Industry (DTI) revealed that "Personal bankruptcies leap 25 per cent to hit an all-time high".
According to Steve Treharne, the head of personal insolvency at the accountants KPMG:
"There is a big black cloud of debt hanging over the UK."
So for housing, is the UK leading the US? Here is a comparison of the monetary policy of the respective Central Banks. The Bank of England started raising rates in November of 2003.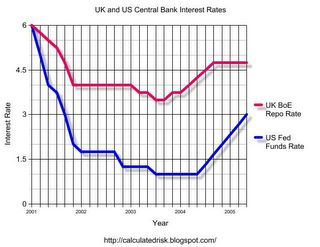 Click on graph for larger image.
The Federal Reserve didn't start raising rates until June, 2004. It appears the US is about 6 to 8 months behind the UK. Although both the US and UK rates were at 6% in Jan 2001, the Federal Reserve lowered US rates far lower than the UK and held rates lower for an extended period. Still it is possible that housing in the US will not suffer until the Fed Fund rate is over 4% or higher – some time in the future.
And I'll finish with another Buffett quote (on the trade imbalance):
"I will close by reminding you again that I cried wolf once before. In general, the batting average of doomsayers in the U.S. is terrible. Our country has consistently made fools of those who were skeptical about either our economic potential or our resiliency. Many pessimistic seers simply underestimated the dynamism that has allowed us to overcome problems that once seemed ominous. We still have a truly remarkable country and economy."
Best Regards to All.
CR Calculated Risk