This morning saw two important releases of October data: industrial production and retail sales. Both showed continued strength.
Industrial production is the King of Coincident Indicators, and more than any other metric typically shows whether the overall economy is expanding or contracting. In October it increased by 1.1%, while manufacturing production increased by 1.0%. The overall number more than reversed last month's decline, while past manufacturing numbers were revised higher. In the below graph I've normed both to 100 as of February to show the pandemic impact: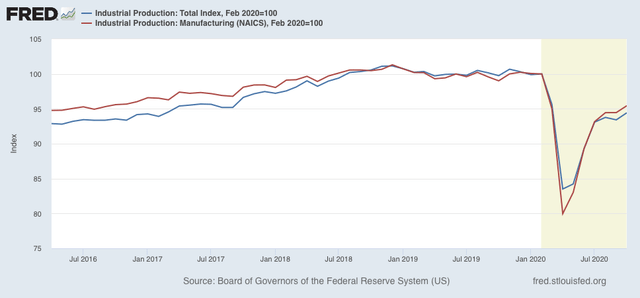 Note that their actual peaks were in November and December 2018, respectively. After declining about 20% at their April troughs, both are now only about 5% below their February peaks. Still, the pace over the last 3 months has averaged less than a 1% increase per month, so it would take about 6 more months at this rate simply to equal the series' pre-pandemic levels.