Steve Roth writes What is the secret to joining the rich country club at Evonomics:
By Steve Roth
There's a curious fact about the wealth and growth of nations that you rarely see mentioned: No country has ever joined the modern, high-productivity, rich-country club without massive doses of redistribution, and universal government programs for social support and financial security. Not one. Ever.
You can get a rough feel for the scale of those programs here (the OECD countries pretty much constitute the "rich-country club"):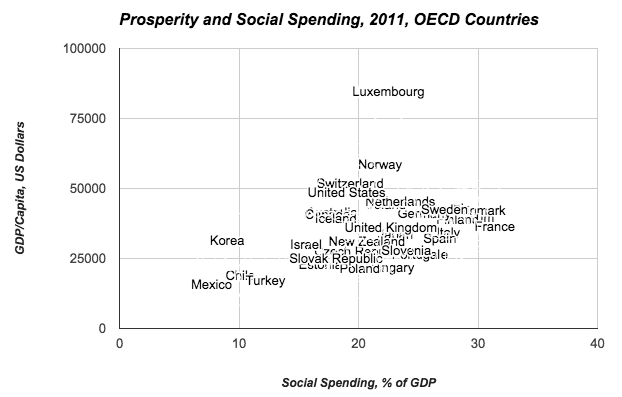 There are a zillion other measures you could plot, but they paint roughly the same picture. In this measure, the richest countries all devote fifteen to thirty percent of GDP to social spending. As Bruce Bartlett pointed out recently, Germany — a darned "conservative" country that is thriving today, and which rode out our recent economic Great Whatever better than almost any other country — started building its welfare state more than 150 years ago.
Now contrast these countries to all the countries that have eschewed those freedom-sapping, serf-ifying government programs, and that have emerged as thriving, prosperous utopias of liberty.
Name one.
Why hasn't it happened? Not even once.
If countries like that were in fact so economically efficient, shouldn't we expect to have seen at least one of them emerge, and surge ahead of all the rest — outcompeting all the others, in a very Darwinian sense? Isn't that the prediction that libertarians and conservatives are making? How can we explain the complete and abject failure of those predictions?
An explanation is perhaps not far to find. Market capitalism — especially modern "holding-company capitalism," in which corporations own corporations which own corporations, ad infinitum — inevitably concentrates wealth and income into fewer and fewer hands. It's just the nature of the beast. Along with its immense, world-changing, manifest benefits, market capitalism labors under that inescapable burden.